27
Honorary Lectures
Andreas Gruentzig Lecture | Josef Roesch Lecture


Andreas Gruentzig Lecture

Okan Akhan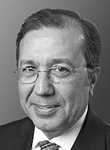 Prof. Okan Akhan is a Professor of Radiology at Hacettepe University in Ankara, Turkey, where he also completed his medical education in 1981. He completed his residency in the end of 1987, became an Assistant Professor in 1988, an Associate Professor in 1989 and a Professor in 1996. In 1984, there weren't any centres for interventional radiology in Turkey; he went to Lund University, Sweden, Radiology Department to study interventional radiology and abdominal imaging. After his return to Turkey, he founded the first interventional radiology unit within the Radiology Department at Hacettepe University in 1987. He has since been working in non-vascular interventional radiology and in abdominal radiology.

Prof. Akhan is committed to training the next generation of radiologists, teaching medical students and residents on all levels. He was one of the Executive Board members of CIRSE and ESGAR (European Society of Abdominal and Gastrointestinal Radiology). He worked as the Chairman of the National Committee, organising the CIRSE 2003 Meeting in Antalya, Turkey. He has also worked in various committees of ECR (European Congress of Radiology), such as the Programme Planning Committee for ECR 2008. He also served as a member of the Scientific Programme Committee of the Balkan Society of Radiology (BSR) for three years. After being Vice-President of the society from 2010 to 2012, he served as President of BSR from 2012 to 2014. He was elected as the Honorary Member of the Hungarian Society of Radiologists in 2008. In the same year, he was awarded the Certificate of Merit by ESGAR for his work in the field of abdominal radiology. He was also awarded an Honorary Fellow of CIRSE in 2010.

Prof. Akhan has served as the Editor-in-Chief for Diagnostic and Interventional Radiology Journal from 2001 to 2010 and for European Journal of Radiology to 2011 as Editorial Board Member. He also was an Editorial Board Member of Ultrasound for two years until 2012 and Journal of Clinical Imaging Science until 2014. He also works as an Editorial Board Member at CVIR. Prof. Akhan is the author or co-author of over 157 (SCI) and around 170 (Scopus) articles published in peer-reviewed journals and around 120 oral or poster presentations presented in international scientific meetings and congresses. His articles have been cited more than 2400 times in the journals indexed by SCI (app. 2900 citations in the journals indexed by Scopus). He has given more than 130 lectures at international meetings and congresses. Moreover, he is also the author or co-author of over 100 articles published in Turkish journals and over 200 oral or poster presentations presented in national scientific meetings and congresses. He has also been invited as a lecturer more than 140 times in national meetings in Turkey. He has written 15 book chapters in Turkish and in English.

Prof. Akhan was selected as an Associate Member of the Turkish Academy of Sciences in 2000 and he was honoured to be accepted as a full member to the Academy in 2008. He had been chairing the Human Rights Committee and Publishing Committee within the organisation until November 2011 when he resigned as he protested against the decision of the government to allow political appointment to the Turkish Academy of Sciences. A new Science Academy founded as a non-governmental organisation in 2011, elected Prof. Akhan as principal member between 2011 and 2014.

Prof. Akhan is one of the founders of the Human Rights Foundation of Turkey and served as a Board Member from 1990-2011. He was one of the first pioneers to have founded more than five treatment centres for torture victims. He is one of the authors of Torture Atlas written on the subject of torture. He worked as a Council Member of IRCT (International Rehabilitation Council for Torture Victims) between 1993 and 2009 and is still a volunteer activist for peace and human rights.

Prof. Akhan has been married to Elif for sixteen years; they have a daughter, Idil. In his spare time, he loves travelling, reading, going to the cinema, visiting vineyards and playing tennis.

Sunday, September 17
| | |
| --- | --- |
| | 14:30-15:00 |
| HL 1301 | Andreas Gruentzig Lecture |
| | |
| 1301.1 | Percutaneous treatment of cystic ecchinococcosis (hydatid cysts): current concepts |
| | O. Akhan (Ankara/TR) |
Josef Roesch Lecture TOP

Nahum Goldberg


Professor Goldberg is an interventional oncologist and Professor at the Hebrew University in Jerusalem and Harvard Medical School in Boston. His research interests include over 20 years of experience studying image-guided tumour ablation and imaging studies. His independent Applied Radiology Laboratory in Hadassah and Minimally Invasive Tumor Therapies Laboratory at Beth Israel Deaconess Medical Center in Boston are dedicated to uncovering methods to improve tumour ablation studies. As the Division Head of Image-guided Therapy at Hadassah Hebrew University Medical Center, he also has considerable experience with clinical trials and interventional oncologic techniques.

Prof. Goldberg has authored more than 180 original scientific manuscripts, 25 book chapters and reviews, 6 guest editorials in Radiology and JVIR and 9 patents. He has been the principle investigator of multiple peer-reviewed research grants, specifically focusing on development, characterisation, and optimisation of new devices, including those for image-guidance. His multiple research projects on tumour ablation have resulted in many longstanding relationships with multiple international collaborators.

The phases of Prof. Goldberg's research and publications mirror the phases of development and maturation of research in the field of image-guided tumour ablation. Initial studies centred largely upon the development, characterisation, and optimisation of systems that enabled clinically relevant thermal tumour destruction. Once underway, the effects of tissue composition and bio-physiology were systematically studied. More recent efforts have taken a mechanistic approach to better understand how to best combine tumour ablation with other therapies to maximise efficacy. These include combining RF ablation with nanotherapies, and beginning to study the potential systemic effects of post-ablation inflammation and potential tumorigenesis. Prof. Goldberg has also recently worked on improving methods of gene therapy and stem cell delivery to treat cancer and genetic diseases as a Fulbright Scholar at Hadassah Hebrew University.

Besides being named a Fellow of the Society of Interventional Radiology, Prof. Goldberg has also served on multiple national and international committees advancing this discipline including CIRSE and the ESR, serving as the Section Editor for an Interventional Oncology series in Radiology and as the Chairman of the WCIO immuno-oncology task force. Additionally, he has chaired or first-authored several key consensus documents in the field including the original "Image-guided Tumor Ablation: Standardization of Terminology and Reporting Criteria" and "SIR Interventional Oncology Task Force: Research Vision Statement and Critical Assessment of the State of Affairs".

When viewed in its entirety, Prof. Goldberg's line of continuous research inquiry clearly demonstrates a capacity to go significantly beyond the state of the art to achieve wide societal impact. Specifically, the development and refinement of tumour ablation tools and image-guided therapies, and particularly the contributions from his laboratory, have provided sufficient impact and options for cancer therapy that have majorly impacted interventional oncology.


Tuesday, September 19
| | |
| --- | --- |
| | 14:30-15:00 |
| HL 2901 | Josef Roesch Lecture |
| | |
| 2901.1 | Taming the systemic effects of interventional oncology through mechanistic study |
| | N. Goldberg (Jerusalem/IL) |